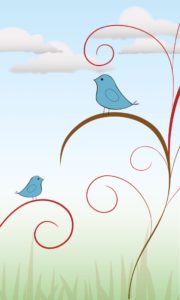 There are two birds, one large, one small. The larger bird is there for the smaller one, like a mentor, to guide him on his journey. This is the primary goal of DDR, to support and challenge the individuals we serve and to help them spread their wings and reach their goals. The birds represent the bond between care provider and individual; they usually stand side-by-side, ready to tackle life's challenges together. Sometimes, however, the larger bird will appear on a different branch or on the opposite side of the page. He will be separated from the smaller one, just as sometimes direct support professionals and parents have to challenge individuals to fly solo, try things on their own, to make mistakes and learn from them.
The little bird, in turn, is strengthened by the larger one and therefore is strong enough to lead the way, to make his own decisions about life, what he likes and what he wants to learn. He knows that someone is there to support him. He doesn't need to hide under the wing of the larger bird, but rather is confident to venture out to a different branch because he knows he is not alone.
The tree will appear in various forms. You may see the entire tree or just a few branches, but it always represents stability, a supporting system with far-reaching and strong roots, like DDR. DDR is a family, and our desire is for the people we serve and those important to them to feel like a part of our family. We strive to be approachable, understanding of needs and concerns and continually supportive like the branches of the tree. With our long history with the population we serve and the combined experience of our team, we are able to stand strong against any challenge and are proud to be the "wing to lean on" for our individuals. For over 17 years we've enjoyed this role and we invite you to be a part of our future. We're looking forward to it!