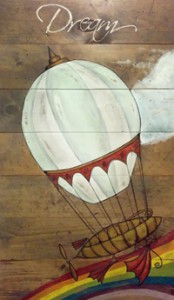 Kim Michel, leader of the Dream Team, says, "It has to start from the heart. If we can get it to start from the heart, there is no limit to what we can achieve." It is a feeling of being part of a community, of a movement to help people achieve a goal, a dream. There is a spark of excitement in knowing that we can brighten a person's life by simply connecting them to a resource, a community member or an organization. These connections can help a person realize a life's desire. It is a wish to share this feeling and excitement with everyone who walks through our office doors. It is the chance to make someone smile. It is colorful, evolving and vibrant and it starts with you. It is a team, The Dream Team.
The Dream Team exists to help make connections within our community, staff, direct support professionals and individuals to help make dreams happen. The Dream Team will work to keep the Dream Wall alive. The Dream Wall, located in the waiting area near the front door, is a place where everyone can check to what the dreams of our individuals are and which dreams they may have ideas or resources for. It is a place to check progress on dreams that have been started and to read about dreams that we watched unfold. Please make sure to stop by this wall often. We will also use this website as a means to share new dreams, so be sure to check the "You Can Help" section often. We need your community links to help with resources to keep the dreams alive.
You will also notice that each of our hallways has a different color wall inside each office and is named after a bird of the same color. It is our hope that each time you see one of these colors, you will be reminded both of the dreams of the individuals in our services and the power you have to help them achieve their dreams. Stop by the wall to see who you can help.
You may wonder where these dreams come from and how they make it to the wall. QPs are asked to complete Personal Outcome Measures (POM) Interviews on all of the individuals we serve. The interview consists of three parts: My Self, My World, My Dreams. Through the My Dreams portion of the interview we have the opportunity to learn what a person's dreams are in life. Instead of merely asking this question and recording the response, we want to take the next step and try to connect the person with the resources to make some of these dreams happen. When we learn about someone's dream, it is to be relayed to Kim Michel, the leader of the Dream Team. Kim will take the dream to our CQL committee who will review the dreams. From there we will add it to our Dream Wall.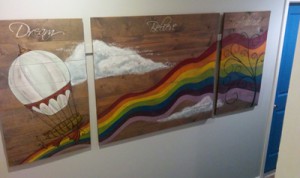 The Dream Team is not asking for donations and it is not the goal of the Dream Team to make the dreams come true. It is their job to help make connections. Any member of the team will be happy to provide more information. For more information about any dream posted on the wall, there will be a wooden "Dream Book" in the waiting room at the front of the office. Check it out to learn more about the individuals behind the dreams. Thank you for your anticipated support!
Most of all we encourage everyone to: "Keep dreaming, wishing, and planning. There's immeasurable power in it." – Laura Smith
Check out the dreams that are currently seeking assistance to come true here.